Auction registration on Proxibid happens behind-the-scenes. We use bank-level fraud prevention tools to ensure the safety of the Marketplace. If you have already met the registration requirements for an auction, you will see an "Approved to bid" tag on the right hand side of the auction listing.

In some cases a seller may require additional information to participate in their event. When this is the case, you will instead see a "Apply to bid" hyperlink along with a notice of what additional information may be required. In the screenshot below, a
Deposit
is required in order to participate in the auction.

By clicking "Apply to bid" you will be brought to the catalog page. At the top of the page you will see a yellow banner detailing the additional requirements with a final hyperlink, "Click Here to Apply".

After clicking the hyperlink, you will be met with a pop-up detailing the amount to be held and the card it will be taken from.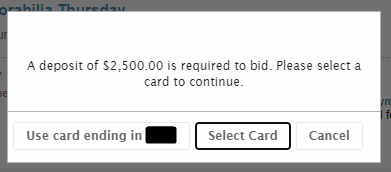 If the card listed is not the card you would like to use, you can choose "Select Card" to choose from available cards on your account or add a new card. Otherwise, you would click on "Use card ending in XXXX" to approve the deposit to be taken.
Joining an Ongoing Live Webcast
For an ongoing live auction: clicking the "ENTER LIVE AUCTION" button located to the right of the auction image while the auction is live.

You will automatically be checked to see if you meet the requirements to join the live auction. The page will process and reload while running this check. Once it has completed, you will be met with a pop-up stating that Proxibid Live is ready to launch. To join the Live Webcast, click "OK, LET'S LAUNCH!"

Once launched you will see the bidding taking place. To start bidding yourself, toggle "Enable Bidding" on using the switch located below the Bid button.
With bidding enabled, the previously locked BID button will light up orange with the asking bid. Simply click the BID button to place your bid at the current asking price.
To enable the audio of an auction, click the "Live Audio" tab located above the image of the currently offered lot.
Live audio/video is for entertainment purposes only and may be delayed. Please refer to the live bidding application, not the audio/video stream, for accurate and up-to-date bid information.

Note: If you are not yet signed in to your Proxibid account when joining the Live Webcast, you will see a "SIGN IN TO BID" button under the image of the currently offered lot.

Placing pre-bids in a live auction & Bidding in a Timed auction
For an upcoming live auction and for a Timed auction: clicking the "BID NOW $XX.XX" button located to the right of each lot image.