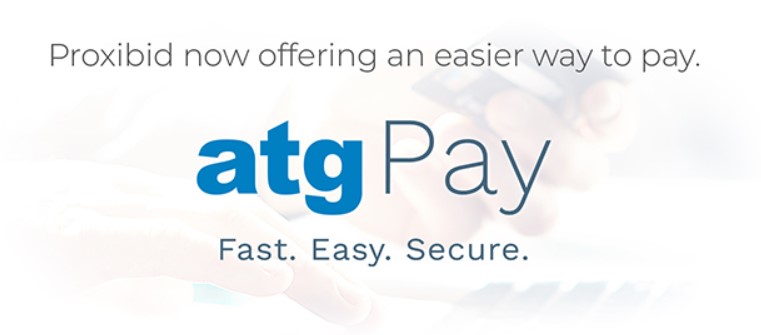 What is ATG Pay?
ATG Pay is Proxibid's new secure and seamless payment processing system that enables you to pay Sellers for items you won.
ATG Pay Is...
Fast: Spend less time arranging payments and more time discovering new lots or enjoying your items

Easy: Pay directly from your Proxibid account, with a few clicks.

Secure: We meet the strictest requirements for security and PCI compliance.
Read the ATG Pay Terms & Conditions for Buyers here.
How will I know if ATG Pay is available at an auction?
We're in the early stages of rolling out this new feature, with a limited release for selected auction houses.
Check the 'Terms of Sale' for the auction or lot you plan to bid on. If the Seller is using ATG Pay, they will stipulate this here.

Once you win your item, it will show up on your 'My Proxibid' dashboard in the Buying section under Purchased. Sellers typically email you an invoice with payment instructions within 24-48 hours of the end of the auction. For Sellers using ATG Pay, invoices will contain a blue "Pay Now" button that can be used to check out via ATG Pay processing system using a debit or credit card.
If there's no "Pay Now" button, it means that the auctioneer is not using ATG Pay, and you need to either follow the instructions on the invoice or contact them to process the payment.
I already provided my credit card when I registered for the auction, why do I have to provide it again?
Proxibid uses credit card information upon registration as an account validation and identity check as part of our risk management procedure. When it comes time to pay your invoice using ATG Pay you will add your card information to be captured for the purpose of payment.
Proxibid engages a third party to ensure your card details are stored safely, securely and Payment Card Industry (PCI) compliant.
How do I pay my invoice using ATG Pay?
Step 1. To make an invoice payment, use the Pay Now button found on MyProxibid under the "Invoices" tab. There will also be a direct Pay Now button available in the invoice emailed to you by the auction house.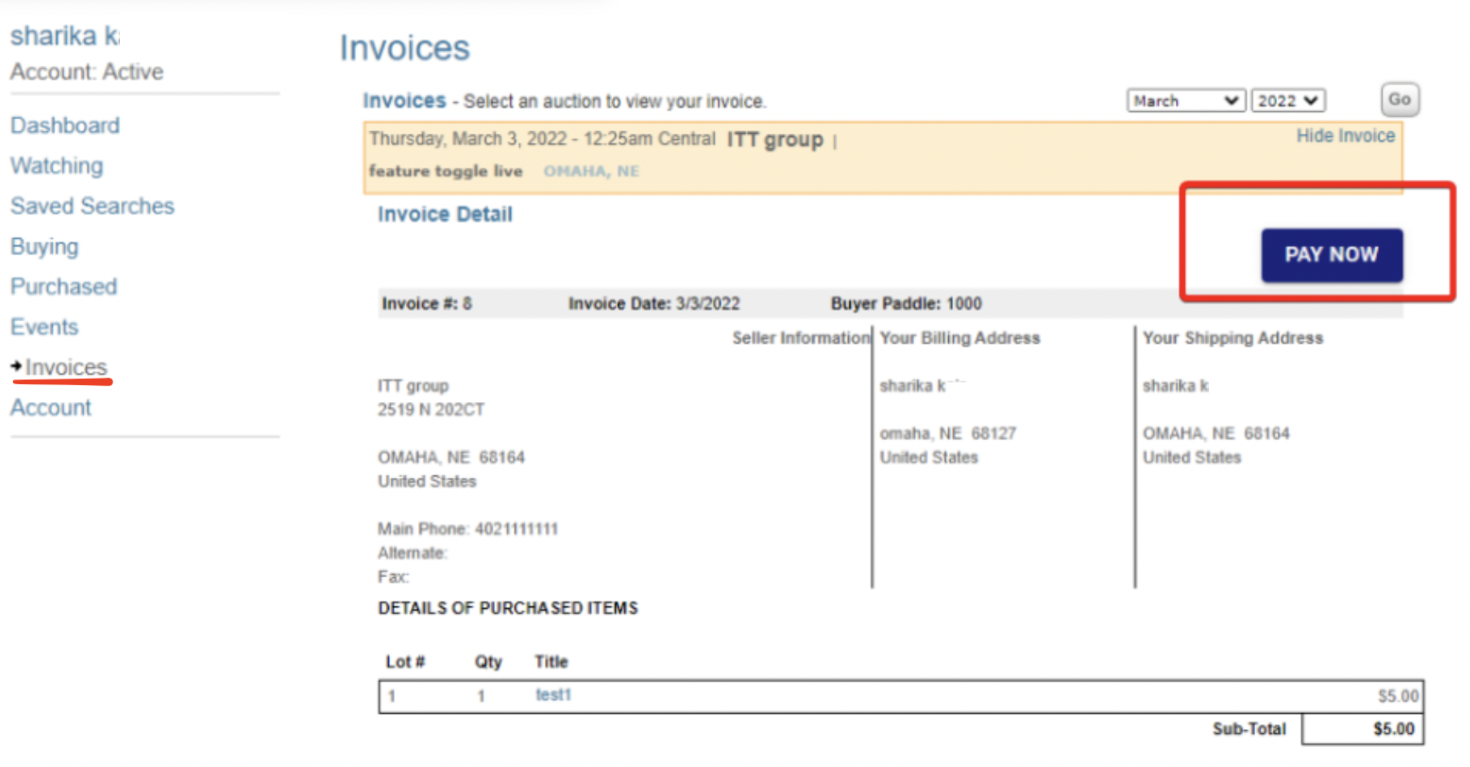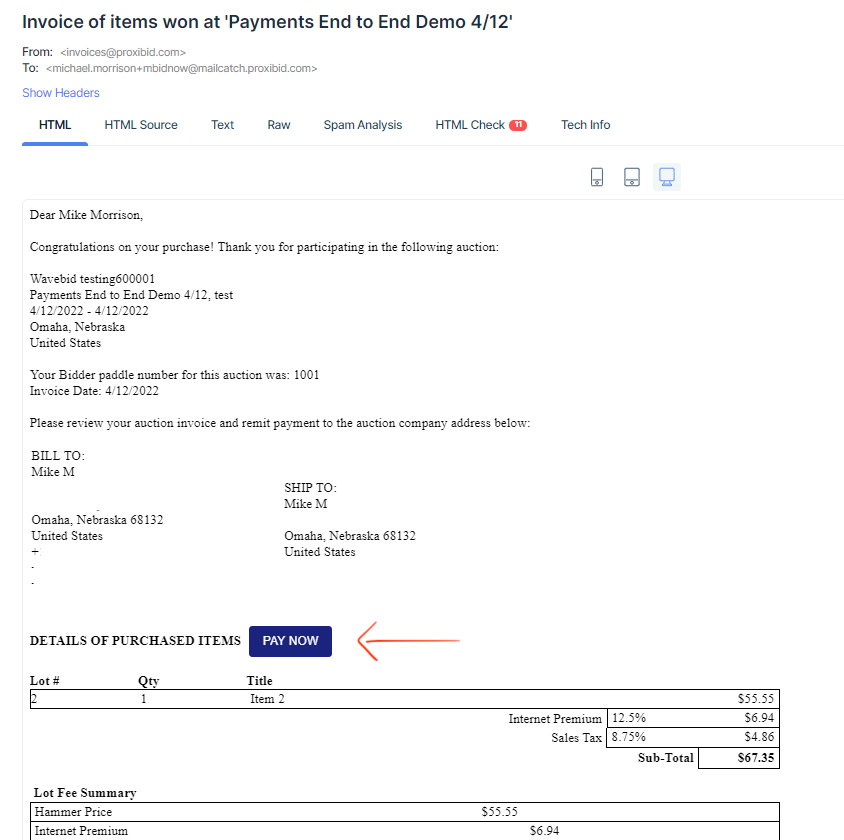 Step 2. Once you click Pay Now, you will be prompted to add and select your credit card to submit payment.
Important Notes: While you may have added a credit card on file in the past, you will need to re-add a credit card to complete payment via ATG Pay. By confirming your payment, you are agreeing to the auction house's terms of sale.

Step 3. Once a successful payment has been made, you will be routed to a payment confirmation page which includes a summary of the transaction.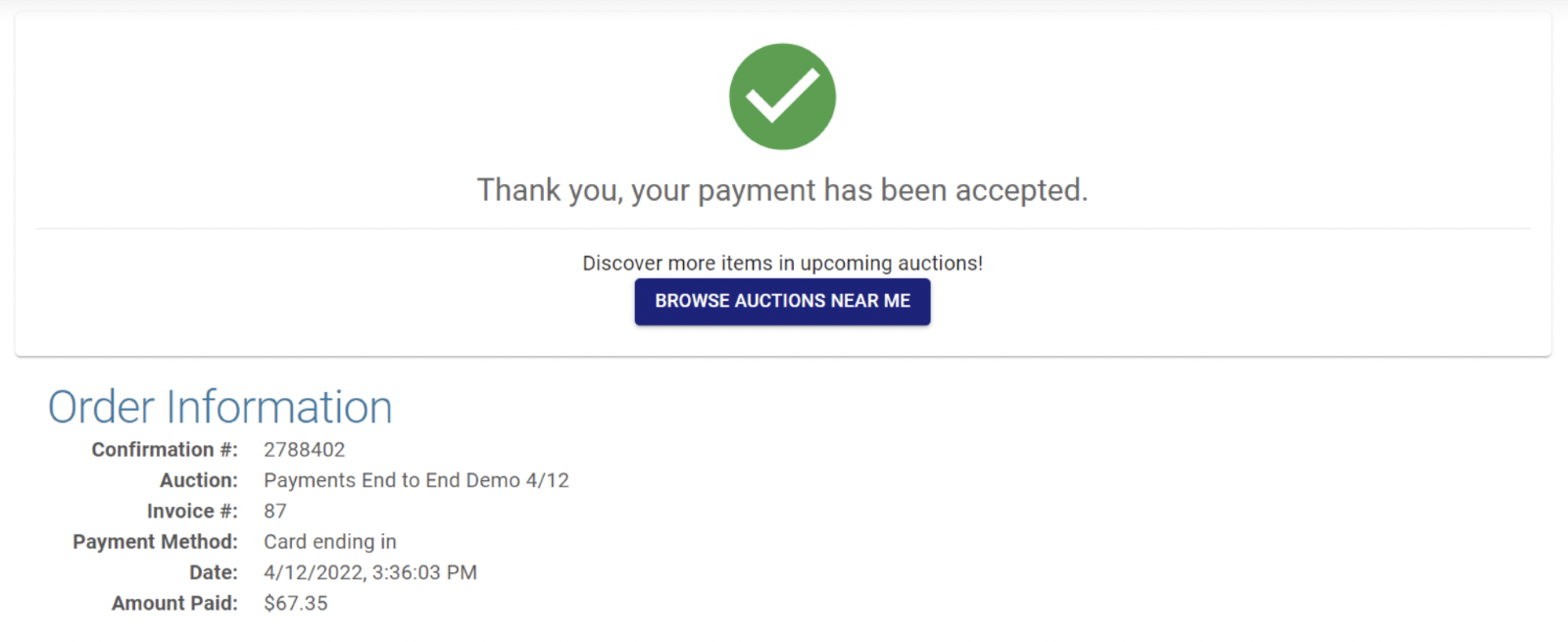 What if an error occurs? Who should I contact?
Please contact our Customer Support team here
How do I request a refund?
Each auction house sets their own terms and conditions for their sale, including policies and information relating to refunds and returns. As this is set by each seller and can vary by auction, we advise our bidders to consult the terms and conditions of the auction you wish to participate in for further information on those policies. You can find a seller's contact information on their landing page within our site or on an event listing.
Any other questions?