This article describes how bidders can register for/participate in auction events on Proxibid.com.
This article contains the following sections:
Auction Registration
---
Auction registration on Proxibid happens behind-the-scenes. Proxibid uses bank-level fraud prevention tools to ensure the safety of the Marketplace.
Pre-Approved
If a bidder has already met the registration requirements for an auction, they will see an "Approved to bid" label on the right hand side of the auction listing.

Not Pre-Approved
If a bidder is not yet approved to bid, they will see a Participate In This Auction or Click Here to Get Pre-Approved to Bid link to the right of the event.


Additional Requirements
Some auction companies may require additional information to participate in their event. When this is the case, an Apply to bid link will appear on the right side of the event, along with what additional information may be required.

In the example above, a hold is required in order to participate in the auction. For more information relating to events that require holds, see
atgPay: Fund Verifications
.
For some events, a
seller
may choose to institute a higher level of security for bidder registration. This may include requesting that a bidder provide the last four digits of their Social Security Number.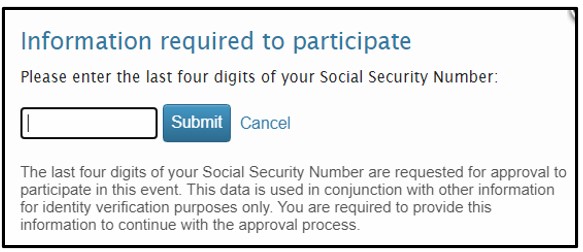 Proxibid will store the information for future verification purposes. If a bidder does not wish to enter the last four digits of their Social Security Number, they may
contact the seller
for manual approval. 
Registration Fees
There are no fees to participate or view a Proxibid hosted event.
Prior to bidding an item, it important to note any additional fees and/or taxes may be charged in addition to the cost of the item. The cost of the item, taxes and other fees (ex. Buyer's Premiums, shipping/handling, and processing) are all charged by the seller. These fees should be listed in the event's
Terms

of Sale
. If bidders have specific questions about any taxes or fees for an event, they should
contact the seller
directly.
Approval Criteria
---
Sellers have the ability to set requirements for event participants. These requirements can vary by seller and change from event to event. Proxibid's verification system actively looks at these requirements to determine whether or not a bidder will be approved. These requirements can include, but aren't limited to:
Passing authentication processes, such as identity or credit card verification

Having history or experience with Proxibid or a particular seller

Passing proprietary risk mitigation algorithms
Pending or Declined Registration
---
Proxibid recommends ensuring that the information on a bidder's Proxibid account is up-to-date and accurate. This is the best way to ensure approval for events on Proxibid. In addition, some events may have special requirements or request additional steps. In these cases, a seller will usually list their requirements in the event's Terms of Sale.
Please keep in mind that Proxibid, or a seller, have the ability decline a bidder's request to participate in an event. Generally, this happens when the requirements to participate aren't met.
Contact Proxibid
directly for further questions about a Pending or Declined registration status. For more information, see
Pending or Declined Registration
.
Auction Types
---
Once a bidder has been approved, they participate in the auction in different ways, depending on whether the event is Timed or Live.

Timed auctions appear on the Proxibid site with a
Clock
icon. For more information, see
Timed Auctions
.

Live auctions, on the other hand, display an
Internet Signal
icon. For more information, see
Live Auctions
.