This article contains information about Timed auctions and how to participate in them on
Proxibid.com
.
This article contains the following sections:
What is a Timed Auction?
---
Timed auctions are online only events. In timed auctions, online bidders will place bids against one another until a specified end time. At that time, the bidder with the highest bid is awarded the item.
Timed auctions are normally set to stagger the end times of lots. This means that the first item in a sale will close before the last item in a sale. This allows bidders to more easily bid on, and monitor, multiple lots in a single sale. When checking the end time of a sale, bidders should also check the end time of any lots they may be interested in, as the stagger time can vary from event to event.

Determining Auction Type
Timed auctions appear on the Proxibid site with a Clock icon.

Live auctions
, on the other hand, display an
Internet
Signal
icon.

Participating in a Timed Auction
---
Potential bidders will need to login to their Proxibid account in order to place bids on a Timed auction event.
To access the event, click the Start Bidding button to the right side of the event.

If additional information is needed in order for the bidder to
register
for the event, a banner will appear at the top of the catalog page requesting that information.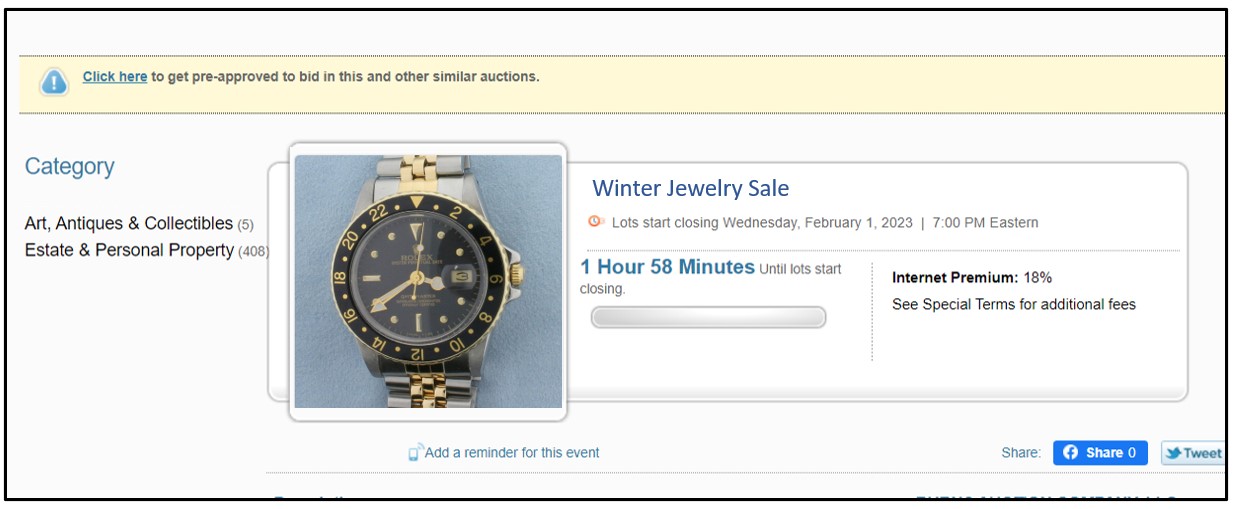 Bidding in a Timed Auction
---
Bids placed in a Timed event are known as "Pre-Bids". For more information on placing pre-bids, see Pre-Bids.
Click the
Bid Now
button to the right of an item to bid the current asking price.

A confirmation window will open confirming the bid amount. Click the
Confirm Bid
button to place the bid. The bid
will not
be submitted unless the
Confirm Bid
button is clicked.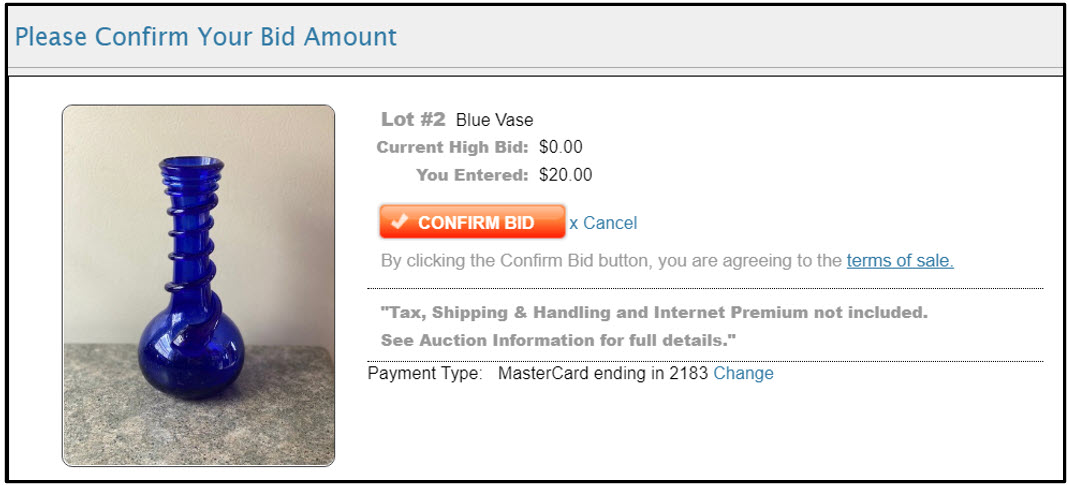 If the Bid Now button does not display an asking price, the bidder will be prompted to enter an amount for the bid.
Bidders also have the option of entering an amount for a Maximum Bid.