Some auction houses offer Automatic Payments (aka Autopay) to help bidders more easily pay for items.
This article contains the following sections:
What is Autopay?
---
Autopay is an atgPay feature that allows auction houses to automatically charge a winning bidder for their purchase within 24-72 hours. The auction house determines whether cards will be automatically charged 24 hours after invoices are sent, or 72 hours after invoices are sent. 
Autopay Notifications
---
If you are participating in an event using Autopay, you will see a notice at the top of the invoice you receive after the event.
Most auction houses send invoices out to winning bidders within 24 hours of an event.
Invoices can also be accessed by logging into your Proxibid account.
Autopay notifications will come from support@proxibid.com with the subject line "Proxibid- Invoice of Items Won at [Auction Name]".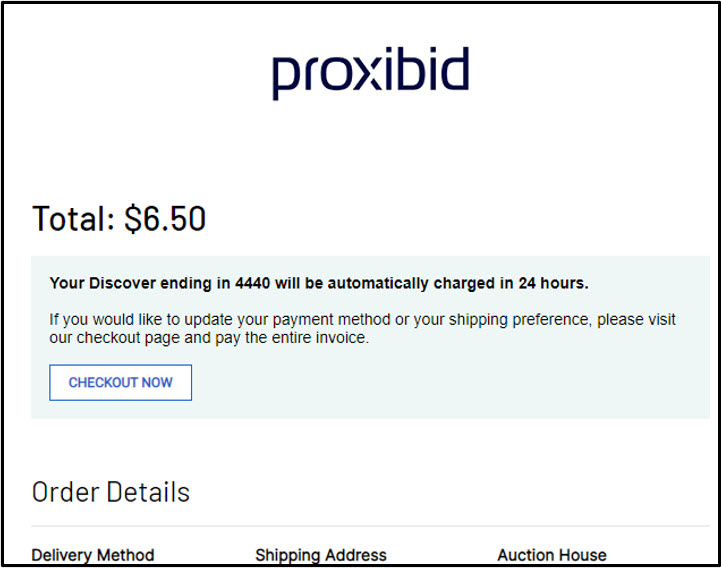 The Autopay notice will provide the last 4 digits of the credit card that will be charged, as well as the timeframe for when the card will be charged (ex. 24 hours). To pay your invoice with a different payment method, click the Checkout Now button in the invoice and login to your Proxibid account. You will be taken to the Checkout page where you can select or enter a new payment method. For more information, see Paying with atgPay.
For information on establishing a new default credit card for future purchases, see atgPay: Managing Payment Methods.